A Mystical Evening (20/11/2005):

Steven arrived on the x97 bus from the Airport. While waiting at the Dafni bus station, I had been enlisted by Anglophonic Spanish-Afghani woman and an elderly Greek woman to facilitate their conversation. It was quite the feat of rapid-fire, simplistic English-Greek exchange, if I do say so myself! I hope they were able to manage without me.

Later than evening Steven and I strolled from the Panepistimio Metro stop to Exarheia (Athens' edgiest neighborhood) to partake of a pizza at Mystic Pizza, one of my favorite culinary haunts.

Island Prep (21/11/2005):

This morning was spent preparing for our island getaway! A travel agent in Athens hooked us up with a fantastic hotel on Santorini called Kafieris, and we booked our ferry tickets in advance as well. While having a spanakopita (me) and a closed pizza (Steven) at a cafe in Constitution Square, Steven snapped this great shot of Lykavittos hill, the Parliament building, and a bus: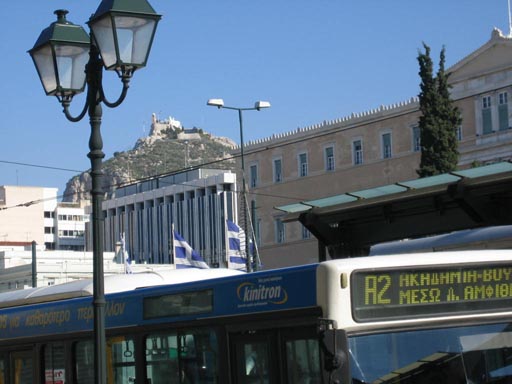 That evening, we hopped on the ferry for Santorini! For anyone who's not been on a Blue Star ferry (the run to the Cyclades and Dodecanese), you're in for a good time: the interior resembles a hotel, with wood tones and soft lighting. Each passenger has a reserved, comfy airplane-style seat, and there's a big-screen TV in the main cabin. On-board food includes either a cafe-type joint and a full-service Goody's (fast food outlet that's the equivalent of something like Wendy's).
So we had out requisite dinner of Goody's before arriving on Santorini. Mr. Kaseris picked us up in his bus and deposited us at our hotel. Unfortunately for us, we had some difficulty with the heating/cooling unit in our room, and couldn't figure out how to get it to stop blasting cold air. A night of big chills ensued!
Exploring Santorini (22/11/2005):
Sanorini is a dream. I mean, get a load of this: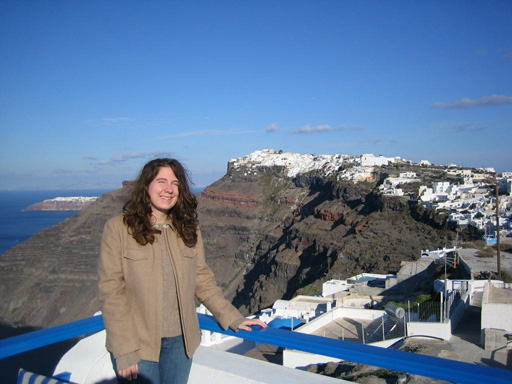 Gorgeous. Houses and shops clinging to these dramatic cliffs caused by one of the most tremendous volcanic eruptions of all time. It is one of the grandest sights I've ever seen.
We were fortunate to have good weather our first day here. We spent it checking out two museums in Fira which feature finds from Akrotiri and Ancient Thira. After we got our fill of golden bulls, wall paintings, pottery and other great stuff we stopped for lunch at the fabulous Tavern Naoussa: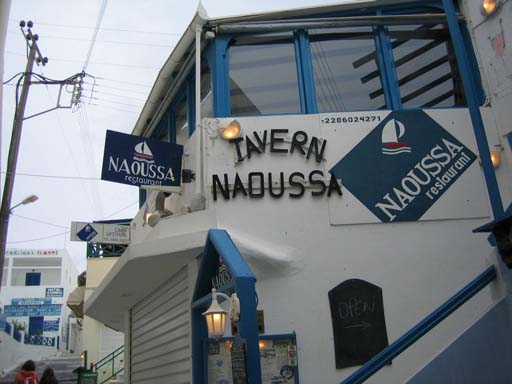 I had a glorious lamb and spinach fricasse and Steven had am exceptional beef stifado (I know, I had a bite!). Therefore we had to canonize this fantastic establishment.
On the way home we saw this unusual pair, and I asked Steven to capture them on camera: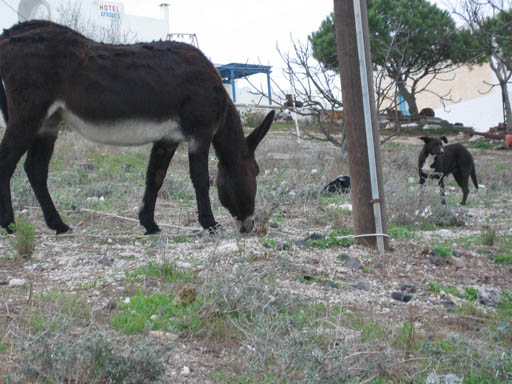 We had a nice dinner in with wine, meat, cheese and chocolate which we acquired at the supermarket in town.
Stranded on the One of the Most Beautiful Islands in the World (23/11/2005):
The weather had begun to deteriorate last night, but that did not deter our explorations! We set off to investigate the pirate-deterring Venetian-style lanes, which were filled with charming shops and even the occasional vestige of medievalism. A pack of local hounds appointed us as their leaders, and followed us around. Here is a great shot of one of our group in a wonderful medieval lane: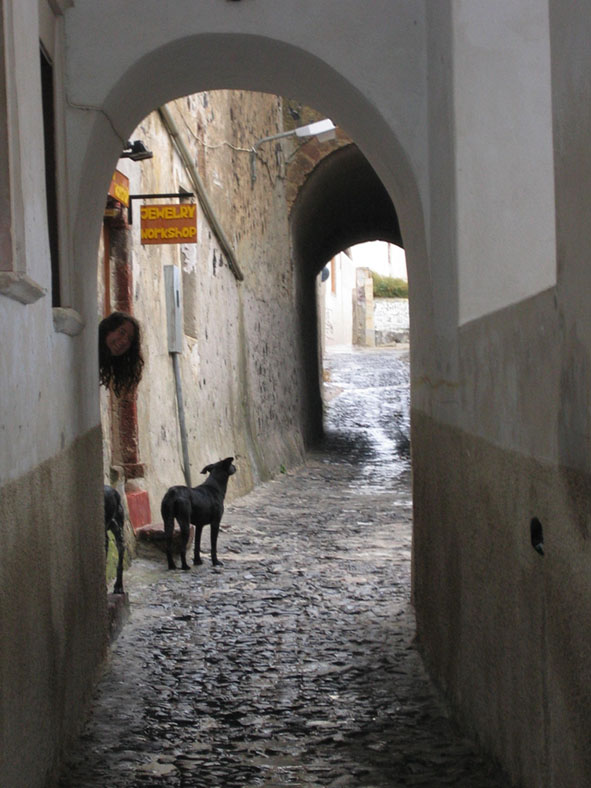 We persevered, even as the rain and wind picked up and we found out no one was getting off the island tonight: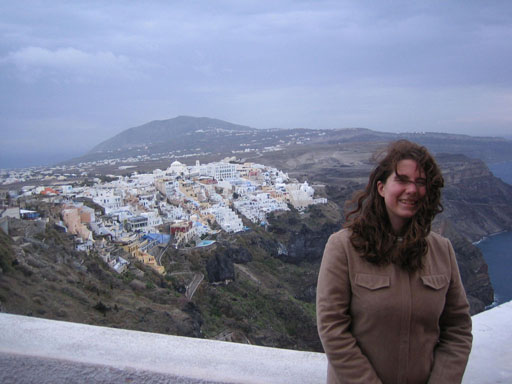 Once home, I asked the hotel owner if he knew of anyone who could deliver us some souvlaki (we weren't goin' back out in the [now driving] rain). He put me through to a souvlazidiko, and I ordered up some tasty fare, which a poor teenage boy managed to deliver to us with an air of cheerfulness.
Back to Reality (24/11/2005):
With no rain and calmer winds we were clear to depart our hotel for an ungodly 6ish AM ferry. The hotel owner, who I seem to have managed to charm during the stay (extra night for 1 euro less! hotline to souvlaki man! offer of hotel on Naxos!), drove several of his patrons down the windy roads to the ferry. Steven and I thanked him and shook his hand. Then we set off for the long ride back to Athens. We had another round of Goody's, and I had my first bout of quasi-debilitating sea-sickness (the seas, while navigable, were quite choppy at times!). Our ferry called at Naxos (as my first Cycladic island, it's near and dear to my heart) and Paros before coming into Pireaus.
The evening found us back in Athens, and for the life of me I can't remember what we ate for dinner. One night Steven bravely experimented with the gas canister in my "kitchen" and made me some great garlic-infused pasta. It was possibly this night or next.
Delphi (25/11/2005):
Deciding to keep our feet on dry land for a while, we set off on a good ol' KTEL bus for Delphi. You might refer to Steven's writeup for more detail here. Delphi has an awe-inspiring setting, and the ruins themselves are intriguing. Here are some views: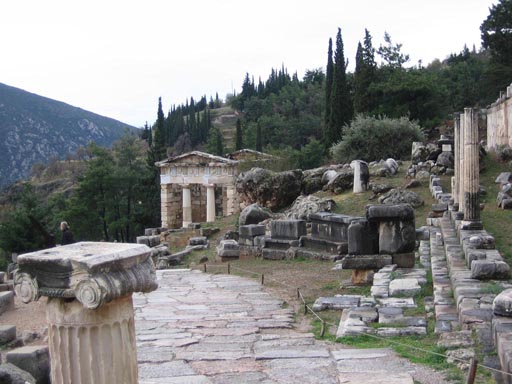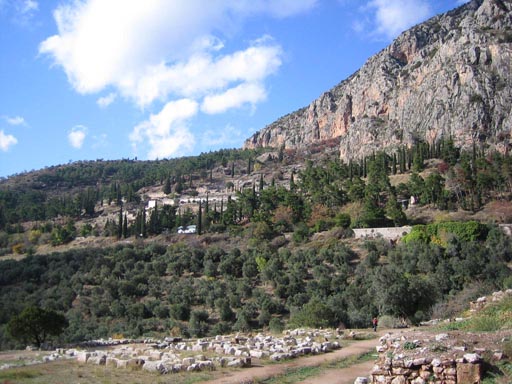 Fie upon Athens' Saturday Transportation! (26/11/2005):
We wanted to take a daytrip to Monemvasia, but the subway schedule on Saturday conspired to make us miss the bus by about 8 minutes. It was a bit of a tragedy, but hey, where else but in Greece?
Tonight's dinner was at the wonderful Barbagiannis Taverna in Exarheia. It has the greatest Greek salad in Athens, so we had that and some spectacular lamb giouvetsi. It was a dinner to remember!
The Grand Athenian Tour (27/11/2005):
You may wonder why I left the Athenian sites for the end of Steven's visit, and the simple answer is that these sites are free on Sundays between November and March, so we saved a whopping 24 euros by visiting them today! we hit all the big names (Acropolis and its museum, National Archaeological Museum, Ancient Agora) and some lesser-known gems (the Keramikos [cemetery], the Roman Agora, the Tower of the Winds, Anafiotika, and the unknown columns in Plaka). Here are a couple shots of Athens, at least one of which I hope you may not have seen in a million advertisements already: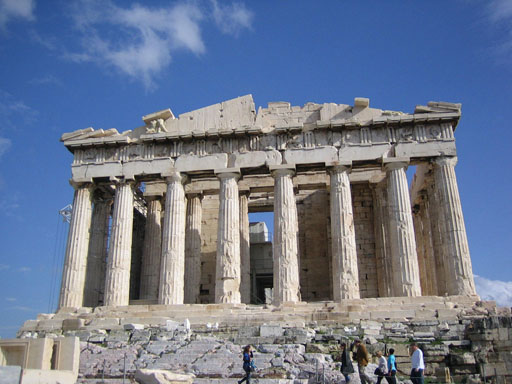 The Last Full Day (28/11/2005):

This day was spent throughly scouring Plaka for gifts and souvenirs for Steven's family and friends. We also dined at my favorite Plakanian eatery, O Platonos (Plane Tree) Taverna. I had my typical fabulous lamb dish.

Mad Dash through the Empty Streets (29/11/2005):

Saw Steven off on his 3 AM bus to the Airport. He had made one of the quickest transitions I'd ever seen to Greek language and livin' that it was a shame to see him go.

So there you have it! Our brief voyage through some highlights of one of my favorite countries. We leave you, cockeyed, on our veranda in Santorini: